Rhino Lodge Bardia since 1992
Best accommodation in Bardia National Park
Imagine walking through the jungle to come across fresh tiger tracks! Your guide motions for you to be quiet as you make your way to an overlook above the watering hole. There, coming to drink struts a Royal Bengal Tiger. The beauty of this elusive jungle cat is something to totally behold.
Bardia National Park, located in far western Nepal, is one of the finest places in the world to see the endangered Royal Bengal Tiger.  But this jungle park is a success story in itself as it has been successful in not only providing a home for these and other endangered animals, but also has seen an increase in population.
Rhino Lodge Bardia is your ideal place to stay when you are exploring the jungles of this national park. Rhino Lodge Bardia has been the premier and preferred place for visitors to stay for over 20 years. Our experience in this jungle park insures you of the best possible trip to the wild lands of this region.
Rhino Lodge Bardia offers air-conditioned rooms. We feature a full dining hall with great meals, serving Continental, Indian and Nepali foods. We feature two back-up generators for 24 hour power. And our grounds are a garden paradise where you can relax and enjoy the serenity of our resort.
You will come to Bardia for the jungle activities, but will find yourself feeling rested and pampered at Rhino Lodge Bardia. We welcome you to make us your jungle headquarters for a variety of experiences in this incredibly beautiful, but remote national park in Nepal.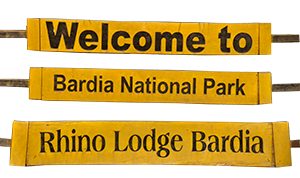 Safari Accommodation
Only a minute away from the park, 10 minutes from its headquarters and a minute from the elephant stables.